Gloomy Matte EvoX Lipsticks: 12 matte lipsticks in 3 opacities for Lelutka EvoX heads in EvoX mode only. 75L this weekend at the mainstore.
Witchy Glitter HD Waterling: Lelutka EvoX HD waterline appliers. Four glittery colors perfect for Halloween! 75L this weekend at the mainstore.
Trick or Treat Nails: I've updated an old nail set that I wanted to bring back for the Halloween season. You can now get the Trick or Treat nails in mesh, with matching (and reworked) appliers. 55L for Glorious Days, please wear the Glorious Days group tag to purchase. Also, please see my info below about the nails update, super important stuff!
Ashlyn Sweater 99L
I wanted to start doing something new, so I made a sweater! I've made a pack of 16 autumn-y colors for it. rigged for Belleza Freya, Isis, Legacy, Maitreya and Slink Hourglass. It has an optional "fuzz" layer to make it looks soft and fluffy (or not!).
This weekend I've put it out for 99L. More colors to come!
Always demo!
The Big Nails Update
I hope to add more body support and other fun features and things for my mesh nails. However, to streamline the process of sending updates to the base meshes I decided to consolidate the base nails into one purchasable item, rather than have them included with all the color packs which would mean updating EVERY SINGLE COLOR PACK every time I add a new feature! YIKES! Having only one base pack to update allows me to send updates through my vendor system quickly and efficiently. I didn't actually want to charge for the base nails, only for the texture packs used on them, but in order to use the updates system in my vendors I have to sell them for some price, so I set them for the lowest possible amount: 1L. This way the base is very affordable. To sweeten the deal I've also made 10 new colors that you get when you buy the base mesh nails for 1L.
Another reason for updates is that I've been working on a way to include matching applier nails with the mesh nails. This required some reworking and rethinking. Not only do mesh nail customers want to have matching appliers for their toes (yes, I got your messages folks!) but I also have a lot of customers who ONLY want appliers. To do this, I will be providing packs of colors HUDs for the mesh nails WITH appliers included, and an applier only option. The appliers will usually be in matching solid colors to go with the mesh nail designs, as designs on the mesh nails are often intricate and do not translate well to appliers. You will be able to see what the appliers will be, like in the ad above. The appliers will be shown as round swatches. Be sure to carefully read the information on the vendors to be sure you're buying the correct thing.
I will also be adjusting prices slightly to account for the changes. Mesh packs will be more expensive, as they include more stuffage, and the applier packs will be cheaper. It will take me some time to updated all the nails in the store to reflect these changes, but I have a few packs coming out that will be starting this way (including the Trick or Treat nails on sale this weekend). You will need to purchase the 1L base mesh nails, or if you want you can continue to use the mesh nails you got in a previous purchase. Just keep in mind if you do not purchase the 1L base mesh nails you will NOT get an update if I add more rigs and features for the base meshes, so you will want to buy the base pack at some point or check back at the store now and then. The new nails set up will look something like this: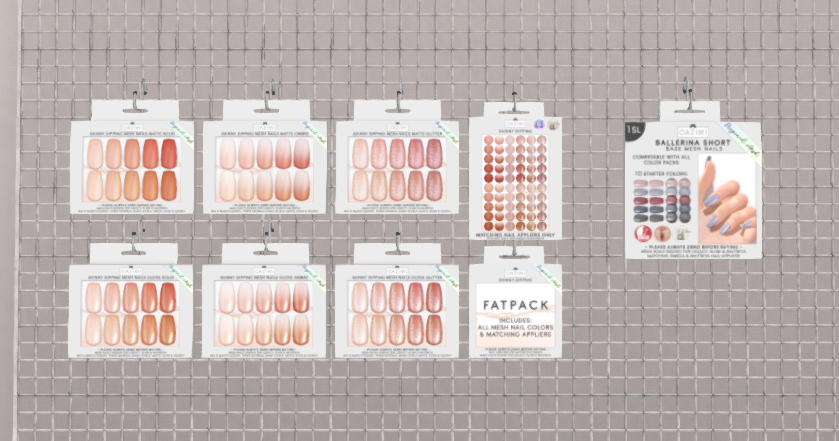 I hope this helps to improve the product for both mesh and applier nail users. Thanks for reading!